Client: Amplifier Foundation
Project: Collaborated with the Amplifier Foundation and renowned street artist Shepard Fairey by providing the photography that the "We The People" campaign of anti-hate images would be based on. 22,840 people pledged $1,365,105 to support this project on Kickstarter, with the artwork ending up as full page ads in the Washington Post, and New York Times to start the public arts campaign.
ROLE: Art Direction • Photography
Ridwan Adhami • RidzDesign x Shepard Fairey • Obey - "We The People"

I created the photograph on the right almost TEN YEARS ago for the 6 Year Anniversary of 9/11 as a response to the rhetoric of that time against Muslims and the claims that we weren't American enough.

I wanted to make a power statement. I wanted to create something that we as a community could be proud of. I wasn't apologizing for anything, I wasn't asking to be accepted, I was merely stating that I too was an American. Wholly and completely and nothing anybody would say could take that away.

The flag is a symbol and a clear and instantly noticeable representation of America. Hijab, the Arabic word for head cover, is also a clear and instantly recognizable symbol for Islam. What better symbols to use.
To take it up a notch I wanted to shoot the photo at the World Trade Center site, near Wall Street in the financial district in Manhattan, NYC. That point as long been lost and can barely be seen in the background of the image. But it was important to be there, doing it there in itself was a statement. I remember getting all types of weird looks and a few sly comments while shooting, "What are they doing?" or "You can't use a flag like that." I was a New Yorker, the subject Munira was a New Yorker, we are both Muslim, the city was ours, the nation was ours, the religion was ours. There was no separating all those facts as many tried and still try to do.
Little did we know what we actually created and how it would be used by both sides of the argument over the next 10 years. It would appear first and officially on the cover of a small Muslim run publication that stopped production a few years later, the image would then unofficially be used on a multitude of blogs, event posters, social media accounts and websites. Both Muslims proud of the image and islamophobes trying to falsely call attention to how un-American Islam is. If you google "Islam in America" or "Islamophobia" the image still ranks quite highly.
Fast forward to 2016 and the presidential election and the new circus of old rhetoric. The image once again holds strong meaning and a place in the discussion. I was approached by The Amplifier Foundation about the "We The People" campaign they were planning on doing using art to make a statement on Inauguration day 2017. I sent a variety of images that represent my people to be used, but of course this was to be the images picked to be converted by illustrator and graphic designer Shepard Fairey of Obey and the Obama HOPE campaign fame. The resulting image shown on the right along with 4 others photographed by Arlene Mejorado and Delphine Diallo and illustrated by Ernesto Yerena, Separd Fairey, and Jessica Sabogal will be printed as full page ads in the Washington Post on inauguration day as well as printed and distributed at the peace rallies such as the Women's March that will follow.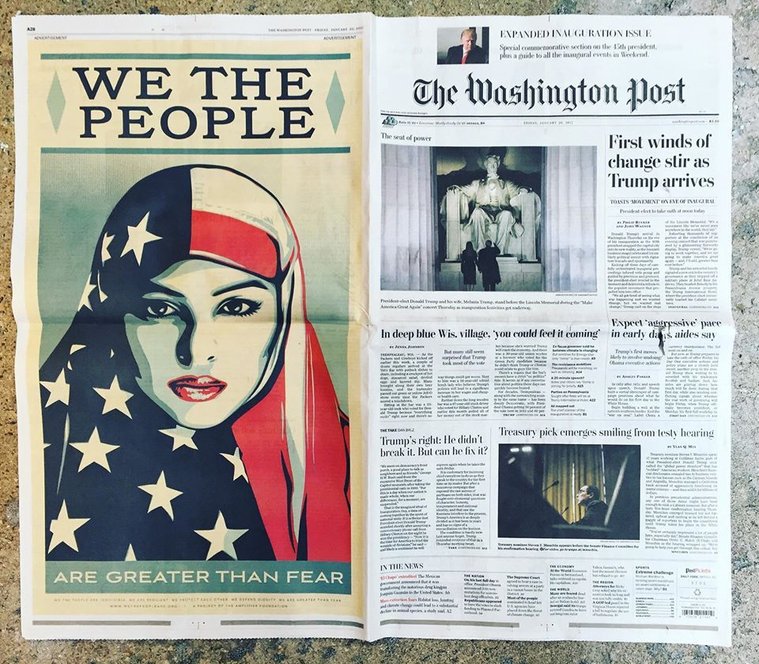 I understand that now this image will now take on a new life and grow in a new way. I am excited and proud to see how the campaign and the images are used and the conversations I am sure they will start.
The next couple of days, weeks and years should be interesting. Just know that I will continue to create art that stands for justice and my people.
I ask you to share and use the images as you please on your social media. Tweet it, Instagram it, FaceBook it, Blog it.
All I ask is you properly credit as such anytime you use either one: Photography by: Ridwan Adhami • Illustration by: Shepard Fairey • obeygiant for The Amplifier Foundation